Meeting basic needs includes more than just food and medicine – shelter and utilities, too. Steph Blessing offers light-duty home repair services to the community at an affordable rate. She also teaches these same skills to individuals or groups. See her list of skills and pricing below.
Handy Repair Skills
Switches, Outlets
Light Fixtures, Ceiling Fans
Off-Grid Electric Advice
Solar Electric Advice, some Install
Faucet Repair
Garbage Disposal, Replace, Install
Toilet Repair, Replace
Shower Fixtures
Sink Repair, Replace
Handheld Shower-heads
Toilet Risers & Tub Cuts
Drywall, Plaster Repair
Ceramic Tile Work, Back-splash
Tuck-Pointing, Light Masonry
Outdoor Structures (Sheds, Greenhouses,
Animal Shelters, Mobile Structures) Advice, some Install
Solar Dehydrator Advice, some Install
Wood Rocket Stove/Dehydrator Advice
Window & Screen Repair
Deck Repair
Fence Repair
Loose Handrail
Weatherization
Door Repair
Gutter Repair
Installing Shelving
Grab Bars
Stair Rails
–>Don't see what you need listed here? Ask Steph about it in email or in the form below.
Schedule an Estimate or Repair
To schedule an estimate or repair, email redbeetrow@yahoo.com, or COMPLETE THE FORM AT BOTTOM.
Teaching
Steph can teach how to do most of the above-listed skills in a group setting or one-on-one. She has given classes in private homes and also in institutional settings for organizations. Email her to discuss a booking, or fill out the form at bottom.
$25 per hour one-on-one class. Steph charges the same per hour for one-on-one lessons as she does to perform the handy work herself. Warning – it does take longer to teach a skill than to do it.
$200 per 2 hour group class. This flat fee covers both material costs and Steph's time (some topics may need additional material costs added).
10 person suggested limit on group classes. You can have an unlimited number of students attend class, but hands-on opportunities decrease with increased class size. Steph suggests limiting classes to 10 people for more hands-on learning.
Experience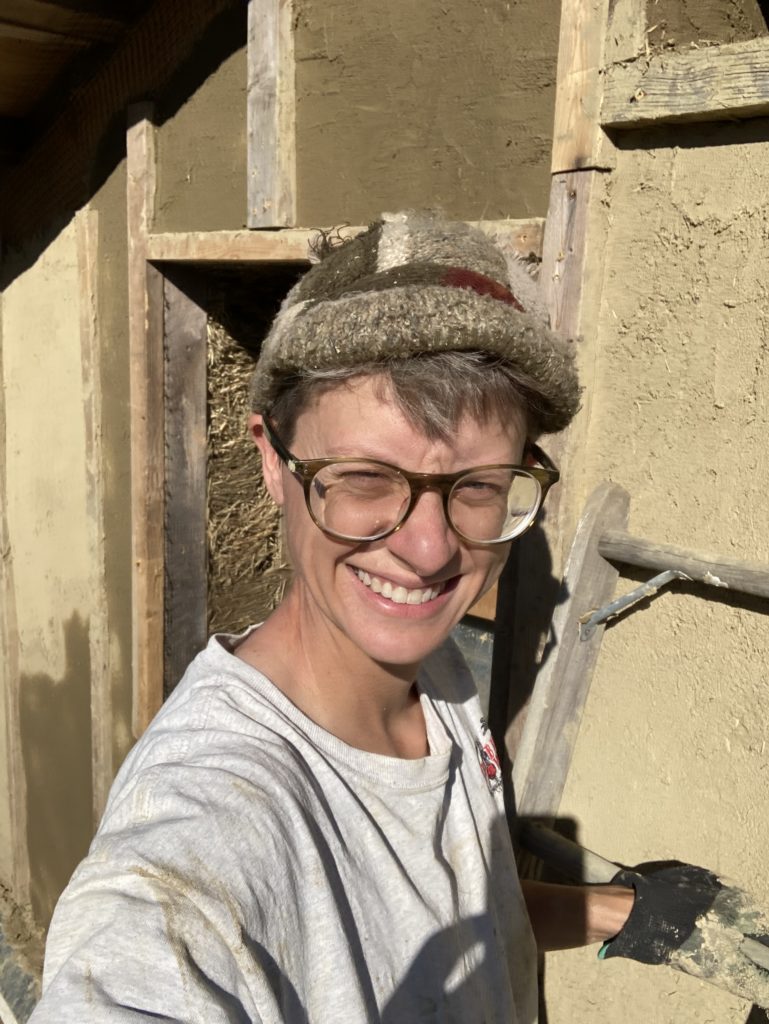 Steph builds, wires, and plumbs all the agricultural structures on the farm at Red Beet Row – greenhouses, root cellar with seed loft, barn, mobile animal structures, outdoor kitchen, etc. Her experience is in natural building techniques, which minimize the use of store-bought products and building supplies made by the chemical industry that are toxic and/or high-energy in their manufacturing and distribution. Her building supplies include waste skids and pallets, locally-sawn lumber from the sawmill, locally-sourced straw and sand, and lots of clay sourced straight from the ground.
Steph has 6 years of experience teaching and completing basic home repairs in normal conventional (not made of clay!) homes. She believes everyone should know how to make and fix the things we use every day. She wants to help out those who don't have capacity to complete their own home repairs – so she is for hire at an affordable rate.
Schedule an Estimate or Repair
To schedule an estimate or repair, email redbeetrow@yahoo.com, or complete the following form.